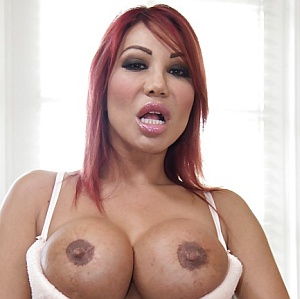 Ava Devine
Ava Devine, (oftentimes also credited as Ava Divine) made her debut in porn back in the summer of 2003.

Ava started out her career as a stripper, and waited until she was in her late twenties before making the big move into hardcore porn. In the short amount of time she has been doing films Ava has already managed to appear in over 30 titles. She gained a reputation for herself as a do anything type of star early on with some truly wild sex scenes. One of the best examples of Ava's attitude shows in Banana Cream Pie 2 with an over-the-top scene where she ends up receiving a staggering DP along with Kylie Rey. Ava has been aggressively working on new footage, so fans of busty Asian beauties will have much to look forward to with her several new releases every month.

This Asian-American beauty has some of the most insane curves you could ever imagine, proudly on display on her petite frame. Ava is a Las Vegas, Nevada resident that is still often seen dancing at the Crazy Horse II when she isn't filming movies or out meeting her legions of adoring fans. When asked how she got into the porn industry Ava proudly boasts that she loves getting fucked. She takes pleasure in her sexuality and thoroughly enjoys fucking men, women, and everything in between.
Show More Bio...
Aliases: Ava Divine, Ava Adore, Karen Little, Mrs. Devine, Eva Devine
Age: 49 y.o. (1974-01-22)
Gender: Female
Country: United States
State: New York
City: Long Island
Height: 5'4" (162 cm)
Weight: 136 lbs. (61 kg)
Measurements: 42F-25-36
Eye color: Brown
Hair color: Brown
Ava Devine's Porn Pics (0)
There is no Ava Devine's sex photos in this list. You can help us upload porn pictures of this hot pornstar to our website.